Bosch BBH65KITGB 65 Minute Runtime Cordless Vacuum Cleaner
Model Bosch BBH65KITGB
Power: 25.2v
Run Time: 65 Minutes
Weight: 3Kg
Power Levels: 3
Bin Capacity: 0.9 Litres
Washable Filter: Yes
Accessories Included: Hose with shoulder strap, Upholstery nozzle, Crevice nozzle, Charger and Instructions
Dimensions (H x W x D): 1160 x 285 x 185mm
Manufacturers Warranty: 2 Years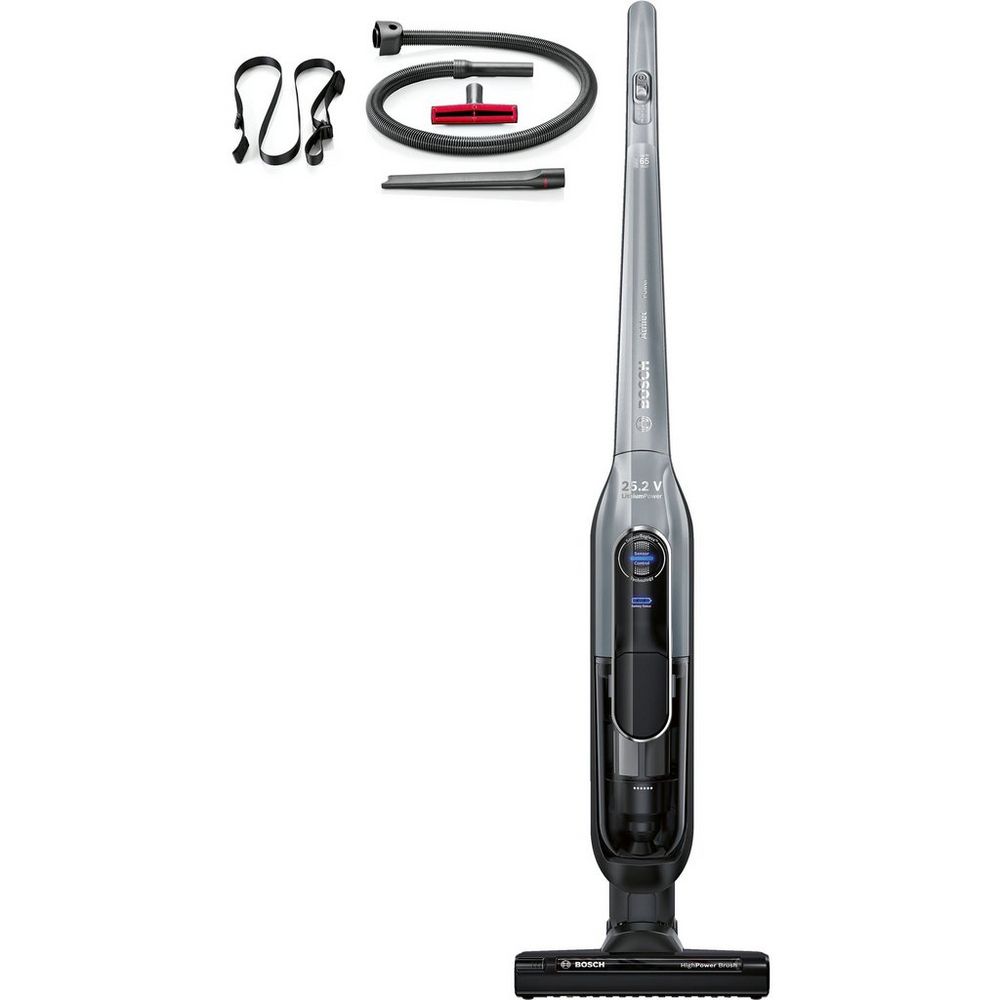 Tools included are:
Flexible Hose
Shoulder strap
Crevice Tool
Upholstery Tool
 This  Bosch Athlet model features a number of innovations to make this a very easy to use cleaner. The Bosch BBH65KITGB model has an enhanced battery compared to the rest of the Bosch Athlet range, but has several other features. 
Enhanced Brush Roller
The brush roller is designed to pick up animal hair better than a standard cleaner as it has a high performance brush. 
The dust container is easy to remove and empty and the filters are washable meaning it has one less thing to buy. If you need to replace the filter after a couple of years, then we stock them.
Lightweight
With a total weight of just 3Kg it moves around effortlessly and stands upright on it's own. This model has a 65 Minute maximum runtime which is more than enough time to get most vacuuming done and it also has a battery indicator on the front to let you know when it needs charging. 
This model also comes with tools which makes cleaning the stairs or your car easy. At least you won't get half way up the stairs and realise your cord isn't long enough like on most corded cleaners.
If you are after a vacuum with good suction and long runtime, then the Bosch BBH65KITGB cordless vacuum cleaner is the one for you.